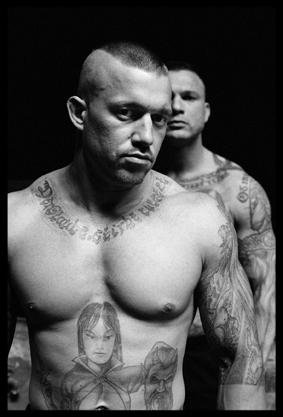 Sven Marquardt | zukünftig vergangen | future´s past
Loading...
Sven Marquardt | zukünftig vergangen | future´s past | zweite Ausgabe/second edition - including 15 new pictures
Sven Marquardt begann seine Fotografenlaufbahn Anfang der 1980er Jahre in Ostberlin. Neben seiner Arbeit als Modefotograf für die Sibylle entstanden Porträtaufnahmen von den Künstlern des Modespektakels Allerleirauh (1987–1989) sowie ungewöhnliche Schwarz-Weiß-Inszenierungen der Ostberliner Szene aus Prenzlauer Berg. Nach dem Fall der Mauer tauchte Marquardt in die sich neu bildende Klubszene von Berlin ein. Diese Eindrücke verarbeitet er in den Ausstellungen, in Fotoinszenierungen für Levi's zur Berliner Fashion Week und immer wieder in Modeshootings für die Magazine Qvest und Front. Seit 2007 ist Sven Marquardt maßgeblich am Erscheinungsbild des Berghain-Labels OstGut Ton beteiligt.
Die Wirklichkeit der Bilder von Sven Marquardt breitet sich vor allem hinter der Zweidimensionalität des Silbergelatinepapiers aus: die arrangierten Porträts sind geprägt von herausfordernden Blicken, und die inszenierten Halbakte vibrieren in einem symbiotischen Spiel von symbolischen Posen und Accessoires. Das Bild spielt mit der Idee, dass Wesen sich transformieren und verschiedene Gestalten annehmen können; anders formuliert: dass sich in ihnen mehr verbirgt als das, was die Oberfläche vermittelt. Das fotografische Werk von Sven Marquardt hat die kapitalen gesellschaftlichen und kulturellen Veränderungen seiner Zeit überdauert, von denen es sich heute, mehr denn je, unabhängig zeigt. Es wirkt zeitlos, denn die tiefer liegenden Inhalte seiner Bilder lassen Gegenwart, Vergangenheit und Zukunft miteinander verschmelzen – fixierte Transformationen und Erneuerungen, wie es sich bereits in einem der ältesten Symbole der Menschheit widerspiegelt: der Schlange die sich häutet.
---------------------
Sven Marquardtstarted his career in photography during the early eighties in East Berlin. Next to his work as fashion photographer for Sibylle, Marquardt portrayed the artists of the fashion spectacle Allerleirauh (1987–1989) as well as exceptional black and white photographies of East Berlin's Prenzlauer Berg scene. After the Wall came down, he immersed into the burgeoning club scene of a unified Berlin and processed his impressions in his exhibitions, with "staged photography" for Levi's during Berlin's Fashion Week and time and time again through fashion shootings for magazines likes Qvest and Front. Since 2007 Sven Marquardt significantly co-defined the image of Berghain's OstGut Ton record label.
The reality of Sven Marquardt's pictures unfurls primarily behind the two- dimensionality of the direct-positive printing paper: the arranged portraits are marked by challenging facial expressions, and the staged semi-nudes vibrate in a symbiotic interplay of symbolic poses and accessories. The picture plays with the idea that creatures can transform themselves and take on different forms; in other words: that there is always more to them than that which their surface betrays. Sven Marquadt's photographic work has outlasted the primary social and cultural changes of his time from which it proves independent, more so today than ever. It seems timeless because the underlying content of his pictures let present, past and future merge into one – fixed transformations and renewals as is mirrored by one of the oldest of mankind's symbols: the snake shedding its skin.
www.marquardtfotografie.com