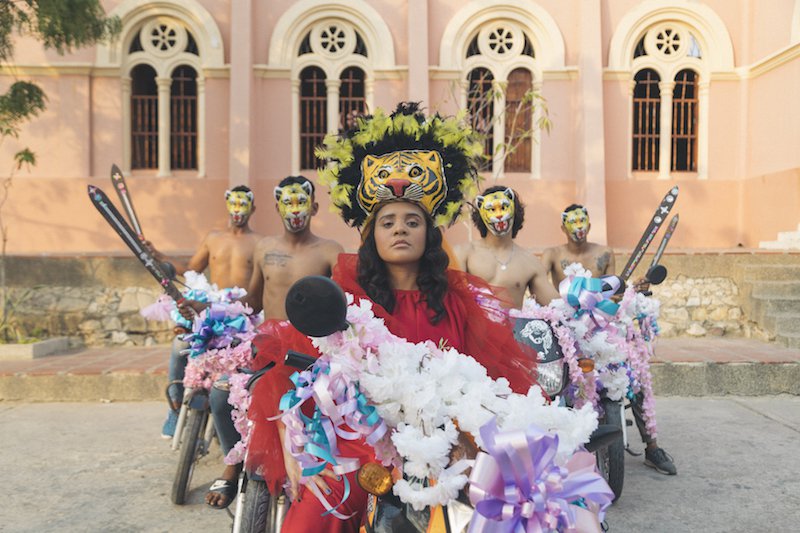 Tuesday 26.05.2020 doors 19:00 start 19:00
Kantine am Berghain
Lido Pimienta
Kometenmelodien
Lido Pimienta will perform her latest studio album Miss Colombia at Kantine am Berghain.
The multidisciplinary artist was awarded with the Polaris Music Prize for La Papessa in 2017. Her music revolves around various genres and styles – from Afro-Colombian cumbia to synth pop to progressive electronic music. She draws inspiration from A Tribe Called Red and Inuk throat singer Tanya Tagaq, but also from MIA and Cardi B.
Lido Pimienta produced the album in her home studio in Toronto. For certain recordings she traveled to her Colombian hometown of San Basilio de Palenque. All of the songs were written and arranged by herself, she co-produced the album with Matt Smith aka Prince Nifty.
In Miss Colombia Lido Pimienta, who is also a writer, deals with the political situation in Colombia, indigenous inequality and racism. She performs together with a band.
Kometenmelodien signifies the euphoria that grows within the listener, whenever he or she is listening to music that has not been there before – a hot and new Hihat, an incredible bassline, an unreal, unique voice or a unity of a seemingly disparate silence.
Kraftwerk released Kometenmelodien in 1973 as a single named "Kahoutek – Kometenmelodie". The excitement that was triggered by the discovery of the comet C/1973 E1 by the Czech astronomer Kohoutek among the specialists, the expectation that this exact comet would be the lightest comet of the 20th century (though it turned out not to be) ... this belief is a part of the shows that take place within Kometenmelodien. Hit! And miss.