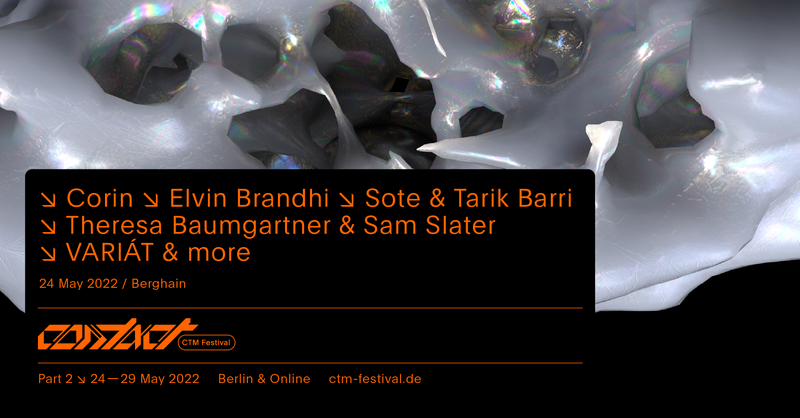 Tuesday 24.05.2022 start 18:30
CTM Festival
Berghain
Elvin Brandhi

C.A.N.V.A.S.

Sote & Tarik Barri

Sub Rosa
Säule
Sam Slater & Theresa Baumgartner
Tickets
18.00€ at the door
Age 18+
CTM Festival's Berghain programme kicks off with an evening of imaginative, visceral sounds.
CORIN is a Filipina-Australian electronic producer, composer and performer working in the fields of performance art, sound design, theatre and club spaces. Whether it's on a theater stage or a dancefloor, the sonic alchemy of this producer, composer and performer is an aural exploration of non-human entity translated through a baroque blend of idm, ebm, tranced-out grime and pearly dew-drops of lush ambience. CORIN will be presenting an audio-visual performance of upcoming material, where industrial textures morph and mutate through space like sentinels, each sound coming into its own being.
Having soundtracked CTM's multiplayer Cyberia festival environment last year, Elvin Brandhi returns to perform live at the festival. Combining field recordings, (in)organic noise, digital synthesis, and eerie improvised vocals, she produces brusque and visceral sonic environments.
A pivotal figure in the electronic music scene in Iran, Sote will premiere a live audiovisual rendition of the harmonically maximalist and symphonic-synthetic Majestic Noise Made in Beautiful Rotten Iran, just released on Sub Rosa. In Sote's words, "the making of this album was intentionally a very personal process, contemplating tolerance, destruction, compassion, misery, grace, and tyranny in an auditory manner." The A/V show is developed with longtime collaborator and critically acclaimed visual artist Tarik Bari, known for creating striking live visuals for the likes of Thom Yorke, Monolake, and Nicolas Jaar.
Ukrainian artist VARIÁT, aka Kotra, uses guitars, synths, and drums to modulate and warp a hypnotic wall of low-end sounds.
Theresa Baumgartner and Sam Slater premiere a new audiovisual installation. Vandals is a piece about inevitability, the sudden event of potential energy becoming kinetic, captured in ultra slow motion, barely detectable in its near frozen motion.
Advance tickets via Stager
RSVP via Resident Advisor | Facebook
Half-price tickets are available to Berlin Pass holders only. You must present your Berlin Pass together with your presale ticket when entering the venue. Reduced tickets for Berlin Pass holders are also available at the door.