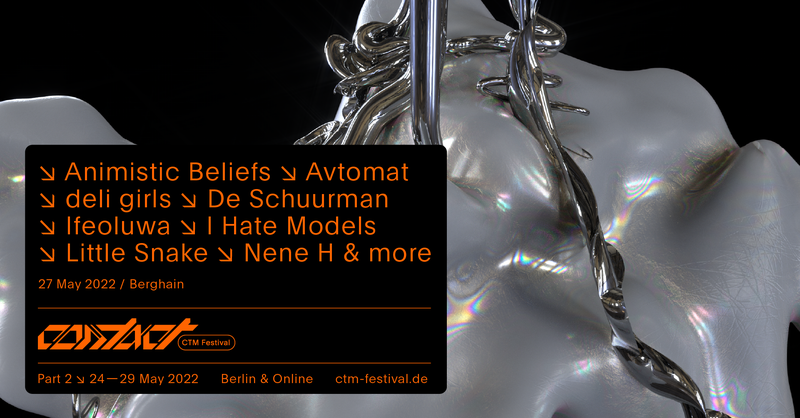 Friday 27.05.2022 start 20:00
CTM Festival
Berghain
Animistic Beliefs

Solar One Music
Panorama Bar
De Schuurman

Nyege Nyege Tapes

Jennifer Cardini

Correspondant
Säule
Sam Slater & Theresa Baumgartner
Tickets
18.00€ at the door
Age 18+
Opium Hum builds DJ sets with sombre, hazy drones and fantastical soundscapes. Alada aims to challenge social paradigms such as sexuality and aesthetic standards through sets inspired by Brazilian Afrofuturism. NURSE3D appears with a live premiere of "music for weirdos, night terrors, speed freaks." Presenting a world premiere live set at CTM, Little Snake garnered attention with his debut album on Flying Lotus's Brainfeeder imprint. The unhinged fervour of hardcore duo de1i girlz represents a vital part of New York's live music scene, where ravers and punks come together in a spirit of activist rebellion. Animistic Beliefs specialise in improvisational live performances using analogue and modular synths and drum machines to produce ravey, dark electro, and IDM / acid techno sounds. Nene H's classic rave selections and live performances have earned much appreciation, in addition to more experimental homages to her Turkish heritage. I Hate Models is known for his high-power, shifting ventures into acid, rave, industrial, and trance.
Edna Martinez routes Caribbean, African, and Arabic sounds. Ifeoluwa fuses together global drum-heavy sonics, the darker side of UK club music, and abstract left-field techno DJ mixes. Den Haag-based producer De Schuurman is a fixture of Holland's Afro-diasporic club scene. His album Bubbling Inside, released by Nyege Nyege Tapes in early 2021, features a selection of productions made ten years ago when he was just a teenager. Gábor Lázár experiments between algorithmic abstraction and recognisable club sounds following his most recent album, Source, released in 2020 on Planet Mu. Producer and vocalist Avtomat brings bass-heavy tracks that often have improvised vocals and unusual rhythms. Founder of the labels Correspondant and Dischi Autumno, Jennifer Cardini brings a well-informed and broad appreciation for dance music to her resident club.
Theresa Baumgartner and Sam Slater premiere a new audiovisual installation. Vandals is a piece about inevitability, the sudden event of potential energy becoming kinetic, captured in ultra slow motion, barely detectable in its near frozen motion.
PLEASE NOTE: Unfortunately Opium Hum's set has been omitted. DORMANTYOUTH will be playing in his place.