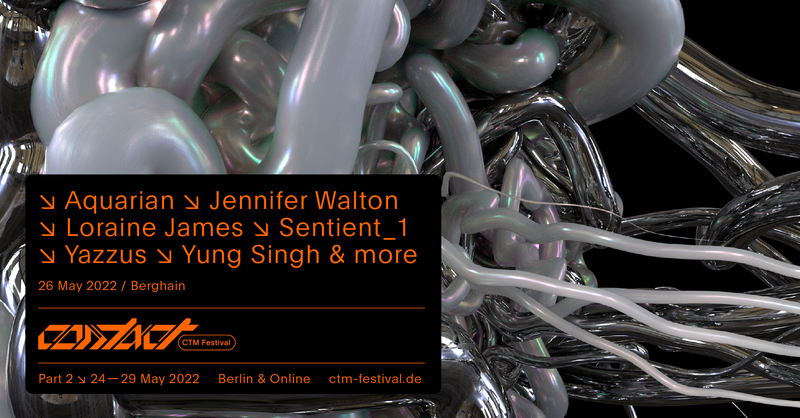 Thursday 26.05.2022 start 18:30
CTM Festival
Berghain
Jennifer Walton

All Centre

Aquarian pres. Ouroboros

Bedouin
Panorama Bar
Bloomfeld

Overthinker Mob

DJ Fuckoff

Unknown To The Unknown

Yazzus

Steel City Dance Discs
Säule
Sam Slater & Theresa Baumgartner
Irreverent of style and genre, dj botox is the new side project of Born In Flamez. Loraine James returns to CTM in support of Reflection, her second album for Hyperdub. boygirl collaborator Jennifer Walton stands out for her warped and wickedly sharp digital sounds. Bedouin Records affiliate Aquarian will present a live audiovisual performance blending new material with his 2020 release, The Snake That Eats Itself. The project, art directed by artist and researcher Sougwen Chung, incorporates Chung's visual explorations of the existing and potential interplay between humans, machines, and ecologies. Originally planned as a fiery head-to-head from Angolan bass alchemist Nazar and Sicilian sonic sculptor Shapednoise, their presentation Sentient_1 unfortunately has been omitted due to unforeseen circumstances, disabling Nazar to perform. Instead, Shapednoise will take the stage solo with his live project Overweight Sub Mutations, an exploration of the diversity of contemporary rap, trap, textural noise, bass weight, abrasive transcendence, and the idiosyncratic ways sound design bleeds through its various styles. Ostbam brings with her an encyclopaedic collection of old school, high energy tunes ranging from gabber to italo disco.
DJ, producer, and founder of Overthinker Mob, Bloomfeld weaves afrofuturist bass music with experimental club sounds in deconstructed DJ sets. Influenced by the 90s UK underground scene and part of the East Asian dance music collective Daytimers, Yung Singh has a unique style rooted in jungle, UK soundsystem culture, and Punjabi music. Berlin-based DJ Fuckoff's nonchalantly blunt track names, provocative lyrics, and playfully creative mixing constitute her unique sound. Inspired by 90s hardcore, Yazzus creates hybrid mixes that traverse the spectrum of dance music.
Theresa Baumgartner and Sam Slater premiere a new audiovisual installation. Vandals is a piece about inevitability, the sudden event of potential energy becoming kinetic, captured in ultra slow motion, barely detectable in its near frozen motion.
Few remaining tickets at the door
RSVP via Resident Advisor
Half-price tickets are available to Berlin Pass holders only. You must present your Berlin Pass together with your presale ticket when entering the venue. Reduced tickets for Berlin Pass holders are also available at the door.