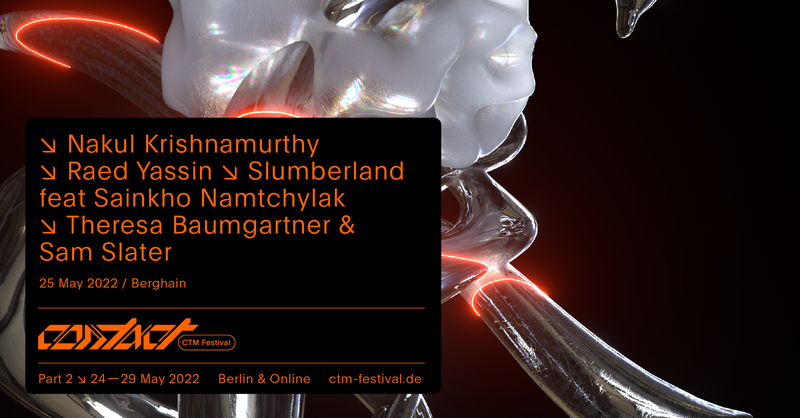 Wednesday 25.05.2022 start 18:30
CTM Festival
Berghain
Nakul Krishnamurthy

cafe oto

Slumberland feat. Sainkho Namtchylak
Säule
Sam Slater & Theresa Baumgartner
Tickets
18.00€ at the door
Age 18+
In collaboration with Morphine Records and featuring over 40 improvisational artists, Raed Yassin presents Phantom Orchestra, an archival project of solo improvisational recordings and an unconventional performance developed in the context of pandemic lockdowns. As a means of coping with the loss of their livelihoods and forms of expression, musicians around the world began to experiment with solo improvisation within the confines of an enclosed or isolated space. Phantom Orchestra showcases otherwise lost output from Berlin-based improv musicians in single vinyl recordings of reproduced solo performances pressed by Morphine Records. The resulting collection of vinyls will be played in a live performance by Yassin, using a system of over a dozen turntables to create an orchestra of deconstructed and repurposed "phantom sounds."
Dialoguing between Western classical / experimental and classical Indian music traditions, Nakul Krishnamurthy presents Tesserae, an upcoming release via Cafe Oto where numerous recorded vocal phrases and harmonies intersect, layer, and blend with generative patterns and chance-based modulations. His unbounded sonic mosaic conjures "a musical space that reflects the intimacy of cultures in the contemporary migratory world and celebrates the possibilities afforded by cultural hybridity in enriching our traditions and modes of thought." (Cafe Oto)
Musician, composer and instrument maker Slumberland collaborates with Tuvan voice artist Sainkho Namtchylak, known for being the first female overtone artist and her avant-garde interpretations of traditional chants. Slumberland's hypnotic and tactile sounds, generated by various mechanical objects, coalesce with Namtchylak's unearthly, compelling strains.
Theresa Baumgartner and Sam Slater premiere a new audiovisual installation. Vandals is a piece about inevitability, the sudden event of potential energy becoming kinetic, captured in ultra slow motion, barely detectable in its near frozen motion.
Advance tickets via Stager
RSVP via Resident Advisor | Facebook
Half-price tickets are available to Berlin Pass holders only. You must present your Berlin Pass together with your presale ticket when entering the venue. Reduced tickets for Berlin Pass holders are also available at the door.