o-ton 84
Anthony Parasole
My Block EP
Loading...
New York City-based DJ, producer and The Corner label owner Anthony Parasole makes his debut on Ostgut Ton with three new percussive-heavy Techno tracks on the My Block EP.
"Percussive music, that's my ground, my foundation but I am missing the feeling of tribalism in Techno today. I've been using a lot of different drum techniques over the past years, implementing them to Techno. The record 'Quickstrike', that I've released on my own label The Corner, was an edit record of an old sample-based house release. To me this was a test if people would gravitate to this sound and it was the biggest record on The Corner so far. From there I knew I could do this and two tracks off my new EP on Ostgut Ton work like this: 'Typhoon' features bongos, congas and all kinds of skin percussion, 'My Block' uses a different kind of percussive color.
HipHop in general and the Cut-up technique in particular have also heavily inspired me as a producer. During the 1990s music seemed really profound – a little bit tougher too. I listened to a lot of HipHop when I was writing the music for this new release and applied its methods to my own music. Many producers at that time were very forward-thinking. Wu-Tang Clan's RZA uses a sixteenth note technique that made me realize that I wanted this kind of hypnotizing sound to work in a Techno format. Another big influence were late 1970s Horror movie trailers. I was watching them while I was working on 'Bizarre' in the studio, I was inspired to capture the eerie tones and textures of those short clips in 'Bizarre'.
At the end of the day I work within certain parameters. Everytime I make a sample, I drop it into my personal folder – so all my music has a similarity of up to 50 or 60%. Maybe I'll use the same drumkit or kickdrum. I apply limitations to myself, but doing this also gives me my own voice. When I was learning how to produce, Levon Vincent taught me to make my own drum kit, to make my own synth kit and to work within this. Sample-based music is inspiring, and creating something out of found sound is very interesting to me. I think a sound signature is something that will always refine ones sonic pallet and skill set."

– Anthony Parasole, Berlin, September 2014 –
Release date
October 27, 2014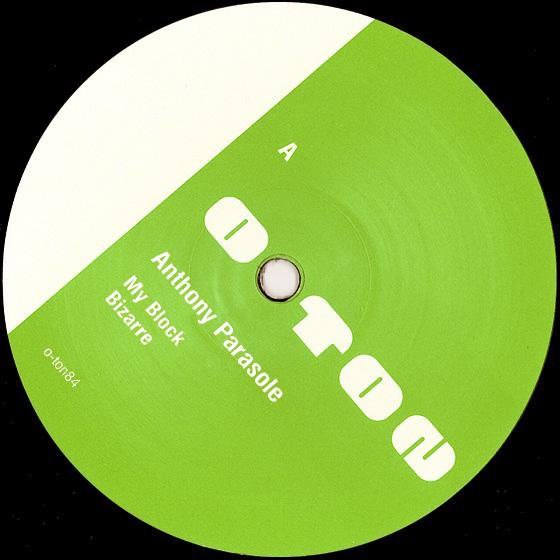 Subscribe to occasional news and announcements by email newsletter