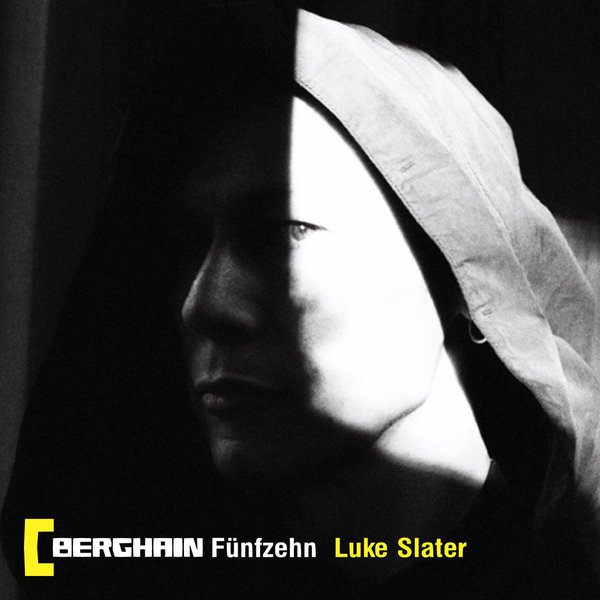 OSTGUTMIX06
Berghain Fünfzehn | Luke Slater
Loading...
The Berghain series on Ostgut Ton returns with volume Fünfzehn mixed and compiled by Berghain resident Luke Slater.
DOWNLOAD mix via SoundCloud | WAV | 2.03 GB
DOWNLOAD artwork | ZIP / PDF / JPG | 784 kb
includes tracklisting and credits, high resolution (300dpi)
Tracklist
2011–2012 [O-Ton Reassembled 2] [00:00 – 04:06]
2018–2019 [04:06 – 11:17]
2007–2009 [11:17 – 15:51]
2012–2013 [15:51 – 19:47]
2017–2018 [O-Ton Reassembled 5] [19:47 – 26:46]
2014–2015 [O-Ton Reassembled 7] [26:46 – 33:46]
2014–2015 [33:46 – 36:13]
2016–2017 [O-Ton Reassembled 4] [36:13 – 41:19]
2006–2007 [41:19 – 45:15]
2009 [45:15 – 54:06]
2009–2010 [54:06 – 1:01:01]
2009–2010 [1:01:01 – 1:05:28]
2010–2012 [1:05:28 – 1:11:50]
2010–2012 [1:11:50 – 1:14:19]
2019–2020 [O-Ton Reassembled 3] [1:14:19 – 1:22:51]
2013–2014 [1:22:51 – 1:29:37]
2017–2018 [1:29:37 – 1:34:16]
2013–2016 [O-Ton Reassembled 1] [1:34:16 – 1:42:07]
2017 [1:42:07-1:47:01]
2014–2015 [1:47:01-1:52:17]
2018–2019 [1:52:17 – 1:57:51]
2011–2012 [1:57:51 – 2:00:26]
2009–2010 [O-Ton Reassembled 6] [2:00:26 – 2:07:29]
When Ostgut Ton and Berghain asked me to do the anniversary DJ mix, that was the touchpaper to a fire. My brain started immediately to concoct new ideas to bury the words 'DJ mix' in a heavily-perfumed, rose petal trash bin. That is, with a viewing glass for future generations to marvel over whilst warmly remembering the original concept of mixing two records together.
On that note, I first heard two records being mixed together in 1983 – I think it was The Packman's "I'm The Packman (Eat Everything I Can)" and Nucleus's "Jam On Revenge (The Wikki Wikki Song)". I was beside myself with excitement in just hearing two records fading and cutting in and out of each other. An epiphany.
I thought, how was this possible? Just listen to the way the beats sit on top of each other to create a new thing. Listen to the way bits of the next record suddenly appeared in the one playing, something that wasn't there before; the flow of it, the technique of choosing when to do it, the skill of doing it manually.
That was then. And still I bow to and am thankful for this new concept happening at just the right time for me to embrace it, learn it and perform it.
So I thought, how can I go the extra mile on this mix with a chance to do something to push myself and hopefully bring something totally new to the world of DJ mixes? Fast forward: I decided to call the technique 'rip the cut'. The idea was simple. The execution? Me and my big mouth had work to do. Sleeves up.
In September I asked Daniel at Ostgut Ton to send me batches of ten releases starting from 1-10 in the catalogue numbers, and from that batch I would scalpel, cut and process both large and micro parts of the releases. This was my sound arsenal, my ammunition, my only source of sounds. With that pot I would then create a totally new track in its own right, both reflecting me and the artists whose releases I was using.
The rules were: 1. It shouldn't sound like a remix or a mash-up. 2. The track had to stand up on its own as a well-produced new track. 3. Don't get influenced by your favorite Ostgut Ton tracks or in discovering new ones. The third rule was the hardest to follow, because the talent and quality of a lot of those tracks stands out when you get up close with them. All I was focused on was: sound, loop, texture, rhythm, frequency. I had to wear the hat of producer, engineer, DJ, entertainer, nerd, performer and psychologist at the same time. No problem.
In January I had 26 new tracks, created from 125 Ostgut Ton 12"s and 30 album releases. Then I took some of those tracks and mixed them together in a very traditional way. The excitement, for me, is that the records in the DJ mix never existed before. These are tracks made from ripping the cut. And so the DJ mix mixing itself reverts back to its original concept.
– Luke Slater, Spacestation Ø, March 2020 –
Mastering by Jan Wagner

All tracks used by kind permission of the respective copyright holders.
This compilation: © Ostgut Ton 2020 | OSTGUTMIX06
Credits
W&P (written & produced by) | T (taken from)
2011–2012 [O-Ton Reassembled 2] [00:00 – 04:06]
Marcel Dettmann | Barrier
W&P Marcel Dettmann | T o-ton52. Copyright Control
Barker & Baumecker | A Murder Of Crows (Part 2)
W&P Sam Barker, Andreas Baumecker | T o-ton54. OstGut Verlag
The Traveller | BER
W&P René Pawlowitz | T o-ton55. Edition NOWT / Random Noise Musick
Tobias. | Freeze
W&P Tobias Freund | T o-ton57. Freibank
Marcel Fengler | Mosaique
W&P Marcel Fengler | T o-ton60. Copyright Control
Vril | UV
W&P Vril | T o-ton51. Copyright Control
Planetary Assault Systems | Bell Blocker (Silent Servant Remix)
W&P Luke Slater | T o-ton53. Mute Song
2018–2019 [04:06 – 11:17]
Pom Pom | Untitled 3
W&P Pom Pom | T o-ton111. Copyright Control
Barker | Look How Hard I've Tried
W&P Sam Barker | T o-ton112. OstGut Verlag
Phase Fatale | Empty Whip
W&P Hayden Payne | T o-ton113. OstGut Verlag
Marcel Dettmann | Metalloid
W&P Marcel Dettmann | T o-ton114. Copyright Control
Norman Nodge | Discipline
W&P Norman Noczinski | T o-ton116. Copyright Control
FaltyDL | Paradox Garage Part I (With Your Love)
W&P Drew Cyrus Lustman | T o-ton117. Copyright Control
Jinjé | Big Skies
W&P Lee J. Malcolm | T o-ton117. Just Isn't Music
Substance | Distance
W&P Peter Kuschnereit | T o-ton115. OstGut Verlag
Substance | Cruising
W&P Peter Kuschnereit | T o-ton115. OstGut Verlag
2007–2009 [11:17 – 15:51]
Dettmann | Klock | Dawning (Revisited)
W&P Marcel Dettmann, Ben Klock | T o-ton11. OstGut Verlag / Copyright Control
MyMy | Southbound
W&P Lee Jones, Nicolas Höppner | T o-ton13. Budde Music / Copyright Control
Tama Sumo & Prosumer | Play Up
W&P Kerstin Egert, Achim Brandenburg | T o-ton14. Copyright Control
Samuli Kemppi | Vangel
W&P Samuli Matias Kemppi | T o-ton16. Copyright Control
Marcel Fengler | Friction
W&P Marcel Fengler | T o-ton17. Copyright Control
Ben Klock | Napoleon Hill
W&P Ben Klock | T o-ton19. OstGut Verlag
2012–2013 [15:51 – 19:47]
Big Strick | Hayday
W&P Leonard Strickland | T o-ton67. Techno Detroit
Marcel Dettmann | Push
W&P Marcel Dettmann | T o-ton61. Copyright Control
Barker & Baumecker | Schlang Bang (Third Side Remix)
W&P Andreas Baumecker, Sam Barker | T o-ton62. OstGut Verlag
DIN | You Are
W&P Marcel Fengler, Phillip Sollmann | T o-ton70. Copyright Control / OstGut Verlag
2017–2018 [O-Ton Reassembled 5] [19:47 – 26:46]
Martyn | Voids Two
W&P Martijn Deijkers | T OSTGUTLP29. OstGut Verlag
Tobias. | Single Minded
W&P Tobias Freund | T OSTGUTLP25. Freibank
Answer Code Request | Orarum
W&P Patrick Gräser | T OSTGUTLP28. OstGut Verlag
2014–2015 [O-Ton Reassembled 7] [26:46 – 33:46]
Terence Fixmer | Aktion Mekanik Theme (Marcel Dettmann Leitmotiv Version)
W&P Terence Fixmer | T o-ton88. EPM Music
Inland | Sca Fell
W&P Ed Davenport | T o-ton87. EPM Music
Marcel Dettmann | Light
W&P Marcel Dettmann | T o-ton82. Copyright Control
2014–2015 [33:46 – 36:13]
Steve Bicknell | Odyssey #2
W&P Steve Bicknell | T o-ton87. Copyright Control
Steffi | JBW25 (Original Version)
W&P Steffie Doms | T o-ton90. Copyright Control
Len Faki | Hainish Cycle
W&P Len Faki | T o-ton89. Copyright Control
Terence Fixmer | Aktion Mekanik Theme (Marcel Dettmann Leitmotiv Version)
W&P Terence Fixmer | T o-ton88. Copyright Control
Inland | Sca Fell
W&P Ed Davenport | T o-ton87. EPM Music
Terrence Dixon | Innocence
W&P Terrence Dixon | T o-ton81. Copyright Control
Anthony Parasole | Typhoon
W&P Anthony Parasole | T o-ton84. Copyright Control
Virginia | Fictional
W&P Virginia Högl, Steffie Doms | T o-ton83. Copyright Control
Marcel Dettmann | Light
W&P Marcel Dettmann | T o-ton82. Copyright Control
Deadbeat | Woah!
W&P Scott Monteith | T o-ton82. Mute Song
2016–2017 [O-Ton Reassembled 4] [36:13 – 41:19]
Tobias. | Nucleon
W&P Tobias Freund | T o-ton96. Freibank
Terence Fixmer | Trace To Nowhere
W&P Terence Fixmer | T o-ton97. Copyright Control
Dettmann | Klock | Bad Boy
W&P Marcel Dettmann, Ben Klock | T o-ton100. Copyright Control / OstGut Verlag
2006–2007 [41:19 – 45:15]
Ben Klock | Czeslawa
W&P Ben Klock | T o-ton05. OstGut Verlag
Marcel Dettmann | Quicksand
W&P Marcel Dettmann | T o-ton03. Copyright Control
Prosumer & Murat Tepeli | What Makes You Go For It
W&P Achim Brandenburg, Murat Tepeli | T o-ton07. Copyright Control
Len Faki | Mekong Delta
W&P Len Faki | T o-ton04. Copyright Control
2009 [45:15 – 54:06]
Nick Höppner | Makeover
W&P Nick Höppner | T o-ton21. Budde Music
Radio Slave | Neverending
W&P Matthew Edwards | T o-ton22. Rekids Publishing
Len Faki | BX 3
W&P Len Faki | T o-ton23. Copyright Control
Planetary Assault Systems | Mark Me
W&P Luke Slater|T o-ton24. Mute Song
Deuce | Guttering
W&P Marcel Dettmann, René Pawlowitz | T o-ton25. Copyright Control / Edition NOWT / Random Noise Musick
Ben Klock | OK (Kenny Larkin Remix)
W&P Ben Klock | T o-ton26. OstGut Verlag
Marcel Fengler | Gridlock
W&P Marcel Fengler | T o-ton27. Copyright Control
Lerosa | Plesso
W&P Lerosa | T o-ton28. Copyright Control
Levon Vincent | Late Night Jam
W&P Levon Vincent | T o-ton29. Levon Vincent BMI
Deuce | Twerp Wiz
W&P Marcel Dettmann, René Pawlowitz | T o-ton25. Copyright Control / Edition NOWT / Random Noise Musick
2009–2010 [54:06 – 1:01:01]
Planetary Assault Systems | Hold It (Deuce Remix)
W&P Luke Slater | T o-ton31. Mute Song
Marcel Dettmann | Unrest (Norman Nodge Remix)
W&P Marcel Dettmann | T o-ton33. Copyright Control
Nick Höppner | Brush Me Down
W&P Nicolas Höppner | T o-ton34. Budde Music
André Galluzzi | Dana Ruh | Mauersegler
W&P André Galuzzi, Dana Gerth | T o-ton35. Copyright Control
Tama Sumo | Prosumer | Rarified
W&P Kerstin Egert, Achim Brandenburg | T o-ton36. Copyright Control
Roman Lindau | Keppra
W&P Roman Lindau | T o-ton37. Copyright Control
James Ruskin | Graphic
W&P James Ruskin | T o-ton38. EPM Music
Barker & Baumecker | Refugee Hipster
W&P Sam Barker, Andreas Baumecker | T o-ton40. OstGut Verlag
Steffi feat. Elif Biçer | Kill Me (Original Mix)
W&P Steffie Doms | T o-ton32. Copyright Control
L.B. Dub Corp | Take It Down (In Dub)
W&P Luke Slater | T o-ton39. Mute Song
2009–2010 [1:01:01 – 1:05:28]
Steffi feat. Elif Biçer | Kill Me (Original Mix)
W&P Steffie Doms | T o-ton32. Copyright Control
Nick Höppner | Brush Me Down (Lee Jones Remix)
W&P Nicolas Höppner | T o-ton34. Budde Music
André Galluzzi | Dana Ruh | Freya
W&P André Galuzzi, Dana Gerth | T o-ton35. Copyright Control
Tama Sumo | Prosumer | Rarified
W&P Kerstin Egert, Achim Brandenburg | T o-ton36. Copyright Control
James Ruskin | Graphic
W&P James Ruskin | T o-ton38. EPM Music
L.B. Dub Corp | Take It Down (In Dub)
W&P Luke Slater | T o-ton39. Mute Song
Barker & Baumecker | Candyflip
W&P Sam Barker, Andreas Baumecker | T o-ton40. OstGut Verlag
2010–2012 [1:05:28 – 1:11:50]
Marcel Fengler | Rapture
W&P Marcel Fengler | T o-ton41. Copyright Control
Soundstore | Take U
W&P Frank Timm | T o-ton47. Copyright Control
Nick Höppner | A Peck And A Pawn
W&P Nicolas Höppner | T o-ton49. Budde Music
Rolando | De Cago
W&P Rolando Ray Rocha | T o-ton43. Rolando Ray Rocha / Copyright Control
Ryan Elliott | Rocksteady
W&P Ryan Elliott | T o-ton44. OstGut Verlag
Ben Klock | Compression Session 1
W&P Ben Klock | T o-ton42. OstGut Verlag
Steffi feat. Virginia | Yours (Staffan Lindberg Remix)
W&P Steffie Doms | T o-ton48. Copyright Control
Dinky | Polvo
W&P Alejandra Iglesias | T o-ton46. Freibank
Rummelsnuff | Machen wir den Tanz
W&P Roger Baptist | T o-ton50. Copyright Control
2010–2012 [1:11:50 – 1:14:19]
Ben Klock | Static Test
W&P Ben Klock | T o-ton42. OstGut Verlag
Rolando | De Cago
W&P Rolando Ray Rocha | T o-ton43. Rolando Ray Rocha / Copyright Control
Hunee | A Leaf For Hand In Hand
W&P Hun Choi | T o-ton47. Copyright Control
Steffi feat. Virginia | Yours (Staffan Lindberg Remix)
W&P Steffie Doms | T o-ton48. Copyright Control
Nick Höppner | Swivel Flick
W&P Nicolas Höppner | T o-ton49. Budde Music
2019–2020 [O-Ton Reassembled 3] [1:14:19 – 1:22:51]
Barker | Maximum Utility
W&P Sam Barker | T BARKER001. OstGut Verlag
Steffi x Virginia | Internal Bleeding
W&P Steffie Doms, Virginia Högl | T o-ton122. Copyright Control
Planetary Assault Systems | Spell A
W&P Luke Slater | T o-ton123. Mute Song
Tobias. | The Wisdom Of No Escape
W&P Tobias Freund | T o-ton125. Freibank
2013–2014 [1:22:51 – 1:29:37]
L.B. Dub Corp | Nearly Africa Dub
W&P Luke Slater | T o-ton71. Mute Song
Atom™ & Tobias. | Physik 44A
W&P Uwe Schmidt, Tobias Freund | T o-ton72. Freibank
Marcel Fengler | Sky Pushing (Dave Clarke Remix)
W&P Marcel Fengler | T o-ton74. Copyright Control
Answer Code Request | Ghostes
W&P Patrick Gräser | T o-ton75. OstGut Verlag
DIN | Euphorium
W&P Marcel Fengler, Phillip Sollmann | T o-ton77. Copyright Control / Outer World Publishing
Dettmann | Wiedemann | Spiritoso (Club Version)
W&P Marcel Dettmann, Frank Wiedemann | T o-ton78. Copyright Control / Edition Muting The Noise / Schacht Musikverlage
Henrik Schwarz | Lockstep
W&P Henrik Schwarz | T o-ton79. Edition Henrik Schwarz
Tobias. | If (Mathew Jonson & The Mole Remix)
W&P Tobias Freund | T o-ton80. Freibank
Marcel Fengler | Trespass (Aubrey Remix)
W&P Marcel Fengler | T o-ton74. Copyright Control
Tobias. | Cursor Item Only (Peter Van Hoesen Remix)
W&P Tobias Freund | T o-ton80. Freibank
2017–2018 [1:29:37 – 1:34:16]
Nick Höppner | Still
W&P Nicolas Höppner | T o-ton103. Budde Music
Vatican Shadow | Rubbish Of The Floodwaters
W&P Dominick Fernow, Joshua Eustis | T o-ton104. Copyright Control
Kobosil | Bei Nacht H (178)
W&P Max Kobosil | T o-ton105. Copyright Control
Terence Fixmer | Melting Planets
W&P Terence Fixmer | T o-ton106. Copyright Control
Etapp Kyle | Ritual
W&P Sergii Kushnir | T o-ton107. Copyright Control
Stefan Rein | Panther
W&P Stefan Rein | T o-ton108. Copyright Control
LSD | Process 1
W&P Luke Slater, Steve Bicknell, David Summer | T o-ton109. Mute Song / Copyright Control / EPM Music
Somewhen | Undress
W&P Szymon Rabowicz | T o-ton110. Copyright Control
2013–2016 [O-Ton Reassembled 1] [1:34:16 – 1:42:07]
Marcel Fengler | Break Through
W&P Marcel Fengler | T OSTGUTCD27. Copyright Control
Marcel Fengler | Mayria
W&P Marcel Fengler | T OSTGUTLP13. Copyright Control
L.B. Dub Corp feat. Benjamin Zephaniah | I Have A Dream
W&P Luke Slater | T OSTGUTLP15. Mute Song
Answer Code Request | Field Depth
W&P Patrick Gräser | T OSTGUTLP17. OstGut Verlag
Nick Höppner | Paws
W&P Nicolas Höppner | T OSTGUTLP19. Budde Music
Virginia | Subdued Colors
W&P Virginia Högl | T OSTGUTLP22. Copyright Control
2017 [1:42:07-1:47:01]
LSD | Process 1
W&P Luke Slater, Steve Bicknell, David Summer | T o-ton109. Mute Song / Copyright Control / EPM Music
Massimiliano Pagliara | If I Try To Forget I Will Miss You Even More
W&P Massimiliano Pagliara | T o-ton101. Copyright Control
Etapp Kyle | Ritual
W&P Sergii Kushnir | T o-ton107. Copyright Control
Terence Fixmer | Melting Planets
W&P Terence Fixmer | T o-ton106. Copyright Control
2014–2015 [1:47:01-1:52:17]
Deadbeat | Whoa!
W&P Scott Monteith | T o-ton82. Mute Song
Anthony Parasole | Bizarre
W&P Anthony Parasole | T o-ton84. Copyright Control
Virginia | Never Enough
W&P Virginia Högl, Steffie Doms | T o-ton83. Universal Publishing
Steffi feat. Dexter & Virginia | Treasure Seeking (Diep Version)
W&P Remy Verheijen, Steffie Doms | T o-ton85. Copyright Control
L.B. Dub | Corp So Much
W&P Luke Slater | T o-ton86. Mute Song
Makam | Girls Night
W&P Guy Blanken | T o-ton82. nonstoplamboos
DVS1 | Electric
W&P Zak Khutoretsky | T o-ton87. EPM Music
Len Faki | For Real
W&P Len Faki | T o-ton89. Copyright Control
2018–2019 [1:52:17 – 1:57:51]
Pom Pom | Untitled 3
W&P Pom Pom | T o-ton111. Copyright Control
Barker | Look How Hard I've Tried
W&P Sam Barker | T o-ton112. OstGut Verlag
Phase Fatale | Reverse Fall
W&P Hayden Payne | T o-ton113. OstGut Verlag
Marcel Dettmann | Metalloid
W&P Marcel Dettmann | T o-ton114. Copyright Control
Substance | Rise And Shine
W&P Peter Kuschnereit | T o-ton115. OstGut Verlag
Norman Nodge | Embodiment
W&P Norman Noczinski | T o-ton116. Copyright Control
FaltyDL | Paradox Garage Part I (With Your Love)
W&P Drew Cyrus Lustman | T o-ton117. Copyright Control
Duplex | Isolator
W&P Chris Aarse, John Matze | T o-ton118. Copyright Control
2011–2012 [1:57:51 – 2:00:26]
Vril | UV
W&P Vril | T o-ton51. Copyright Control
Planetary Assault Systems | Bell Blocker
W&P Luke Slater | T OSTGUTLP10. Mute Song
Barker & Baumecker | A Murder Of Crows (Part 2)
W&P Sam Barker, Andreas Baumecker | T o-ton54. OstGut Verlag
Dexter | X7D
W&P Remy Verheijen | T o-ton56. Clone Publishing
Tobias. | Freeze
W&P Tobias Freund | T o-ton57. Freibank
Steffi | Schraper
W&P Steffie Doms | T o-ton58. Copyright Control
Birds Two Cage | Gase
W&P Birds Two Cage | T o-ton59. Copyright Control
Marcel Fengler | Mosaique
W&P Marcel Fengler | T o-ton60. Copyright Control
Marcel Dettmann | Barrier
W&P Marcel Dettmann | T o-ton52. Copyright Control
2009–2010 [O-Ton Reassembled 6] [2:00:26 – 2:07:29]
Shed | Waved Mind
W&P René Pawlowitz | T OSTGUTCD06. Edition NOWT / Random Noise Musick
Shed | Archive Document
W&P René Pawlowitz | T OSTGUTCD06. Edition NOWT / Random Noise Musick
Ben Klock | Gold Rush
W&P Ben Klock | T OSTGUTLP03. OstGut Verlag
Planetary Assault Systems | Enter Action
W&P Luke Slater | T OSTGUTCD09. Mute Song
Marcel Dettmann | Taris (Outro)
W&P Marcel Dettmann | T OSTGUTLP05. Copyright Control
Shed | Keep Time
W&P René Pawlowitz | T OSTGUTLP06. Edition NOWT / Random Noise Musick
Planetary Assault Systems | Human Like Us
W&P Luke Slater | T OSTGUTLP10. Mute Song
Release date
April 03, 2020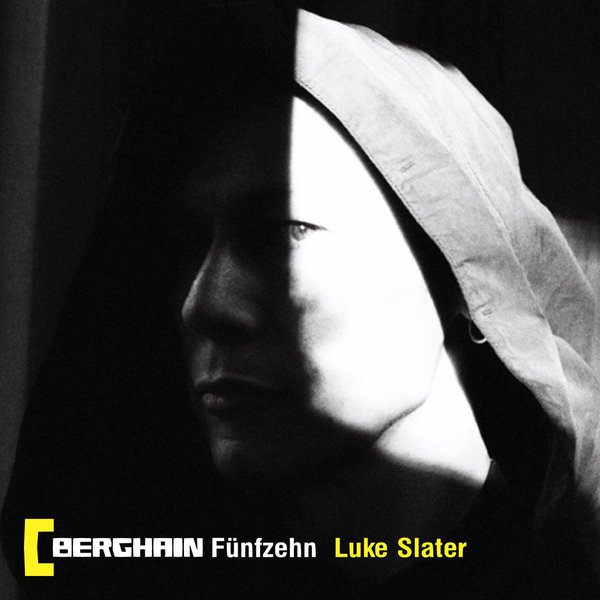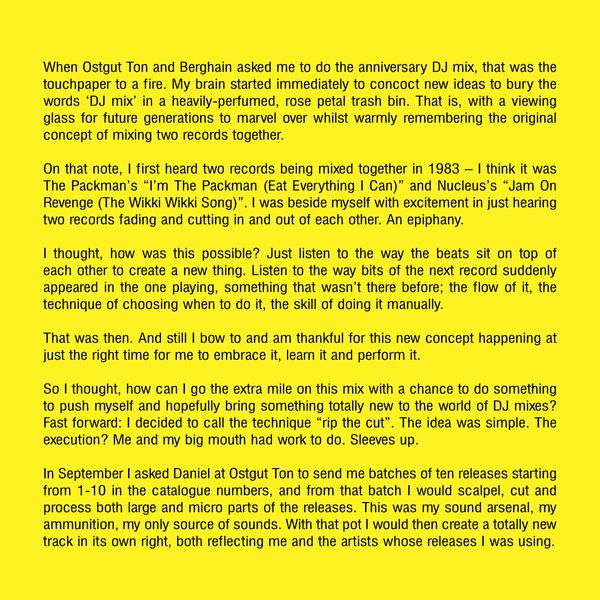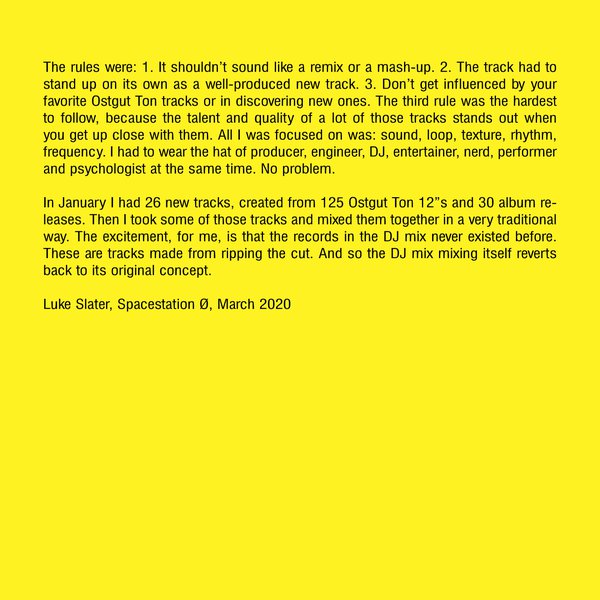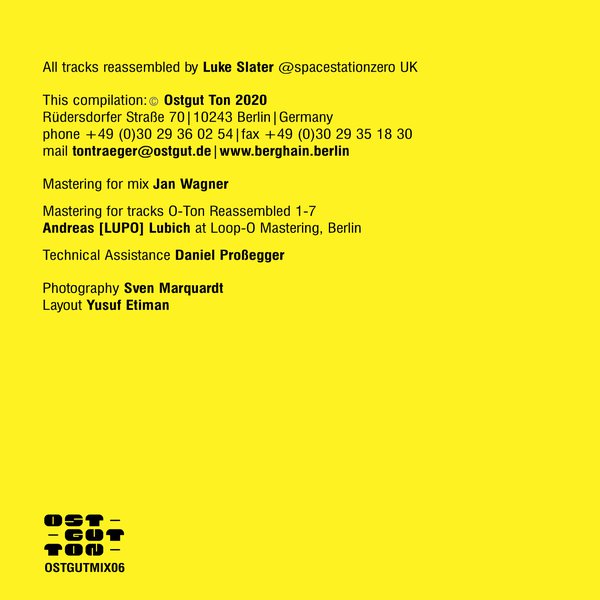 Subscribe to occasional news and announcements by email newsletter