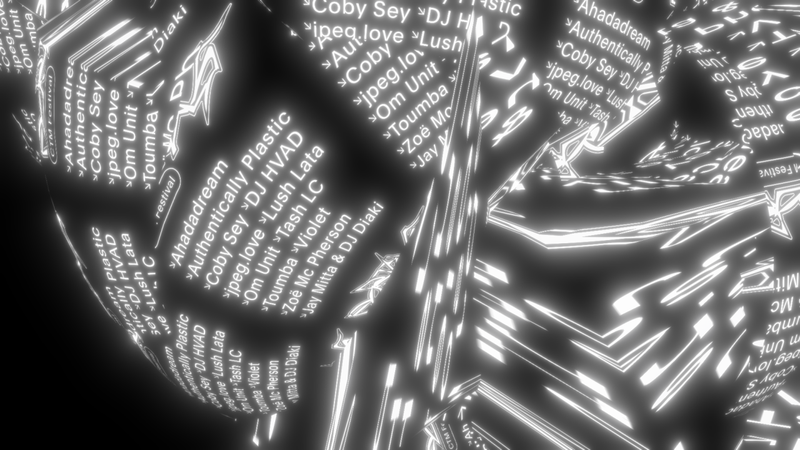 Thursday 02.02.2023 doors 21:00 start 21:00
CTM
Berghain
Authentically Plastic

Live

30K Zoe Mc Pherson / Jay Mitta / DJ Diaki
Säule
Tanat Teeradakorn & Nuh Peace
The Berghain opens with Falyakon who twists, layers, and bends sounds and genres into unique and erratic sets of distant memories, interruptions, and projections of what is to come. Om Unit journeys through psychotropic dub methodologies with his latest Acid Dub Studies. The distinct sound signatures of the Roland 303 and timeless dub techniques open up a deeply embodied psychedelic memory echospace. Curl collective member Coby Sey will bring his debut album performance, fusing the collaborative force of multi instrumentalists Alpha Maid and Ben Vince with deconstructed electronics and the hypnotic power of spoken word. Spearheading Kampala's ANTI-MASS queer parties and collective, Authentically Plastic will appear with a live premiere of their debut album Raw Space, an exploration of »sonic flatness,« where kinetic industrial thumps and influences from East Africa's innovative musical landscape cross through acerbic polyrhythms in overdrive, oscillating between the hypnotic and unrest. Adopting the stage name 3OK, prolific collaborator Zoë Mc Pherson will appear with DJ Diaki – whose hard-thumping electro balani live sets channel the quintessential African rave sound – and Jay Mitta, one of the core producers of Sisso Studios – the Dar es Salaam collective responsible for popularising singeli worldwide. In many of his unconventional productions, DJ HVAD allows elements of abstract electronic club music to communicate with sounds of classical Indian instruments, drawing up a musical space that merges our post-industrial present with ancestral spirits of his family roots. Mina resident Violet has been propelling Lisbon's underground with elegant blends of techno, breakbeat, and acid basslines, and will hit Berghain with a rare dnb set.
Over at Panorama Bar, Toumba integrates elements from Jordanian and Levantine folk music into his driving, low-end heavy club offerings. Lush Lata is a member of India's first all-female/non-binary electronic music collective Coven Code. Tash LC tastefully balances afro-jazz and highlife broadcasts with more up-tempo meetings of kuduro, gqom, and esoteric club sounds. British-Pakistani producer Ahadadream brings percussive bass-filled energy, and jpeg.love's productions vary from sex positive to punky vibes, propelling an understanding of club culture as community driven and intersectional.
Säule will be filled with sounds between ritualistic noise, post-punk, digital deconstructions, and gabber, each with a unique performative edge that conjures portals to distinct worlds and fictions. Donning pink hazmat suits, a noisy, industrial, femme waste removal service is performed by Dreamgirls (Clíona Ní Laoi and Michelle Doyle) who have come to clean up all the waste, spray disinfectant, and remove human stains. MusicMakers Hacklab co-host Verónica Mota appears as her Espectra Negra moniker, unfurling experimental, industrial, and ritualistic sonics between the Säule's booming concrete pillars. The South Korean musician bela takes strong conceptual narratives to their works, as heard most recently through Guidelines, a release investigating Nongak, a traditional form of Korean folk music. Longtime friends and collaborators in Bangkok's burgeoning experimental scene, Tanat and Nuh Peace join forces with a meld of costume, performance, video, and party vibes, taking inspiration as much from noise and queer cultures, as from sounds and scenes of their native Bangkok. The duo Vieze Meisje bring pop, performance, humour, and rave in one dazzling act. Frequent CXEMA guest Jana Woodstock links the night's sounds through wide-ranging interventions, pulling from her love of the many textures of music's noisier and beat-propelled techno spectrum.
Sold out. Possibly a few tickets available at the box office.